Work starts to protect Louth homes from future flooding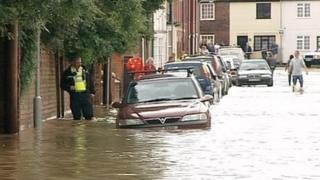 Work has begun on a £1.2m project to protect a Lincolnshire town from future flooding.
Hundreds of homes and businesses in Louth were severely damaged by floods two years ago.
The work to upgrade the sewers and increase capacity in the Eastgate and Riverhead areas is expected to be completed by spring 2015.
Anglian Water said the project would "significantly reduce the risk of flooding" again.
Leading the project, civil engineer Nick Randall, said: "The extent of the improvements does mean there will be some unavoidable disruption over the coming months, and we're very sorry for that.
"We have carefully planned the work to avoid disrupting the important Christmas trading period and minimise the impact on residents, but we hope everyone will understand the huge benefits this scheme will have for their fellow neighbours and the area."
The company said several roads would be closed to allow the work to take place.