Skegness flash floods cause damage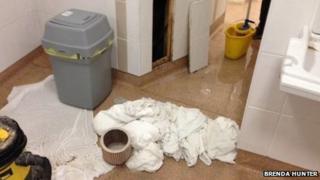 Seaside businesses have suffered flood damage following heavy rain.
Flash floods in Skegness affected hotels, a bingo hall, shops and homes after rain fell at about 13:00 BST on Tuesday.
One eyewitness said the seafront looked "like a river" during the heavy rain in the afternoon.
Lincolnshire County Council said there was only "minor damage" but fire crews had to be called to pump out water from properties.
'Pumping people out'
Brenda Hunter, manager of the Grosvenor Hotel in North Parade, said: "I had a panicked phone call from staff members saying we were flooding downstairs.
"There was about 2in in our ladies' toilets, it had come in through the wall."
She added the hotel's wooden parquet ballroom floor was still soaking wet and might need to be replaced.
Ms Hunter said: "We're coming into [our] busy season so if we starting pulling stuff up now we're going to lose business. I've never seen anything like that."
Skegness Town councillor Sue Binch said she saw some of the damage caused by the heavy rain.
She said: "Somebody showed me some pictures of the seafront and it was just like a river."
She said she saw a bingo hall in North Parade where flood water had come through the back door and soaked half the carpet.
A Met Office spokeswoman said it was likely the flash flooding was caused by intense downpours of about 30mm of rain an hour.