'Talented' William Parlby Neale killed himself, inquest hears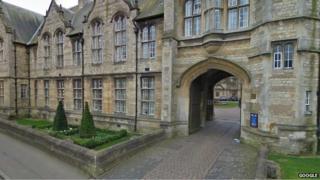 A "talented" and "flamboyant" 15-year-old killed himself after a number of difficulties including bullying, an inquest has heard.
William Parlby Neale, who described himself as gay, said he had been verbally and physically bullied at school.
The inquest heard he also had relationship problems with his parents, who he lived with in Beckingham, Lincolnshire.
He died at home on 14 November.
A statement from his mother, Susanna Parlby, was read at the inquest in Lincoln.
She said William "didn't fit in" with the "sporty" pupils at Uppingham School, in Rutland, where he attended on a scholarship from September 2011 to April 2012.
"He was a very flamboyant character and took great pride in his attire," his mother said.
"This didn't go down well with his fellow students and therefore a decision was made to move him back to [Lincoln] Minster School.
"On return to Minster School, William appeared to be quite content. However, it was during this period that his relationship with my husband, William's father, started to falter."
Self-harming history
A GP's report read at the inquest suggested William could also have been bullied at Lincoln Minster School, but assistant coroner Richard Marshall said: "To what extent it was a problem there I do not know."
A survey by the charity Metro found that young lesbian, gay, bisexual and transgender people (LGBT) are more likely to have suicidal thoughts and self-harm than their straight friends.
The inquest heard William had a history of self-harming and expressed suicidal thoughts, including jumping off a bridge over the A1.
The assistant coroner said he was "clearly a talented young man", but added: "Clearly there were a number of difficulties which William experienced."
A report from Lincoln Minster School, read at the inquest, said: "William was a flamboyant character and had been increasingly so with the emergence of his homosexuality.
"This was not an issue at school and he was accepted by his fellow students."
Richard Harman, headmaster of Uppingham School, said in a statement after the inquest: "We are all deeply saddened by the news of William's death in November 2013 and our thoughts and prayers continue to be with William's family and his many friends."
His cause of death was hanging but the coroner recorded an open verdict, rather than suicide, because he could not be certain William had intended to die.