University of Lincoln creates 3D printed robot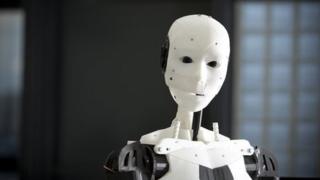 A life-size robot has been created using a 3D printer by researchers at the University of Lincoln.
MARC (Multi-Actuated Robotic Companion), which is the size of an average man, took three months to make.
Creator Dr John Murray claimed it is the first robot of its kind and was created to help study and understand human interactions and relationships.
It is also said to be cheaper to build than other robots that are already available.
Needs legs
"There's lots of humanoid robots but they cost hundreds of thousands of pounds. To print MARC actually cost less than £1,000," said Dr Murray.
"What we are actually using MARC for is to look at how humans form companions and relationships with other humans, and in the future we can look at how they can do that with robots."
The friendly robot is yet to have its legs printed and attached but the university hopes he will be complete by the end of the year.
He has been programmed to reflect different characteristics and personalities and will soon have a catalogue of phrases and responses.
Dr Murray said if successful the robots could eventually be used to act as companions for elderly people or those with mental and physical disabilities.
Later this year it is hoped MARC will visit local schools to test how children with autism interact with him.