Ryan Smith's "remarkable" recovery since cycle crash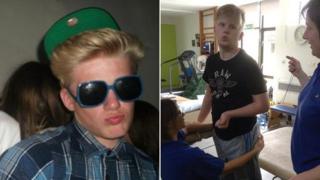 A teenage cyclist who was not wearing a helmet and was left in a coma from a crash has made a "remarkable" recovery, his father said.
Ryan Smith suffered a brain injury after colliding with a van in July in Lincolnshire.
His father said Ryan, who was 16 at the time, had not wanted to mess up his hair by wearing a helmet.
Now his family are preparing for him to return home after recovering at a rehabilitation centre in Surrey.
Ryan's father, Mark Smith, said he was now drinking water from a glass instead of taking sips from a spoon and was "eating like a horse"
The family said although he was recovering, they did not know exactly when Ryan, now 17, would be ready to come back home.
'Our miracle'
Mr Smith said: "Since July every day is a blur, it's just all been integrated into one long, painful day, but we are getting more highs.
"We weren't sure whether we were ever going to get any of Ryan back but now he's talking to us, and he's eating like a horse.
"When you think about it and you sit back and try and reflect it's quite remarkable where he is now."
Mr Smith, a paramedic, has since campaigned for a law to force cyclists to wear helmets since the crash happened on 22 July on Langham Road, Hogsthorpe.
Ryan's family were initially warned he could die and they refer to him as "our miracle".
It took him four months after the accident to speak his first words and his family say he is determined to be able to walk again.
Doctors say Ryan will continue to improve but cannot say how well he will do.
BBC Radio Lincolnshire will broadcast a one-hour programme about Ryan's recovery on 26 May.