Heckington Windmill sails set to turn again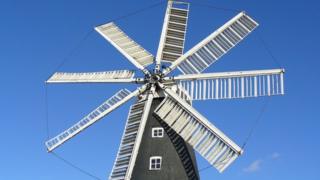 Work is set to begin replacing the sails on England's only surviving eight-sailed windmill.
Heckington Windmill, in Lincolnshire, received about £1m from the Heritage Lottery Fund to restore the mill and create a "world class visitor attraction" on the site.
Once operational, the mill will produce its own flour and malt for use in the on-site brewery.
Manager Jim Bailey said it was vital to get it working again.
He said Heckington is one of only seven eight-sailed mills ever built and is believed to be the only location in the UK where there have been mills with four, five, six, and eight sails.
He added: "We haven't milled for three years because of the sails.
"The grain for the mill is grown locally in the village but at the moment, rather embarrassingly, I have to put it into the back of my car and take it to another windmill."
The Heckington Windmill Trust is also finalising plans to restore the mill complex, including the granary, cart shed and bake house.
Mr Bailey said he hoped visitor numbers would increase from 4,000 to 12,000 per year, bringing more trade to the area.