More Gypsy spaces will help prevent 'illegal pitching' in Lincolnshire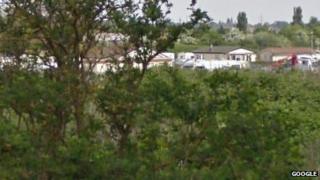 Plans to almost double the number of traveller pitches in central Lincolnshire will help prevent "illegal pitching", officials have said.
It comes after a report by West Lindsey, City of Lincoln and North Kesteven councils, which said more capacity was needed to meet demand.
The authorities currently provide 85 pitches and have said a further 72 are needed over the next two decades.
A Gypsy Council spokesman described it as a positive move.
The Gypsy and Traveller Accommodation Assessment, which also identified a need for a "travelling people's show yard", was commissioned by a joint task force for the three authorities.
'Treated differently'
Chairman of the group Ric Metcalfe said: "There is a legal duty on local councils to look ahead and anticipate what the future need might be and make sure there is provision for it."
He said more spaces would help stop "a nuisance being caused by people pitching up at the last minute and occupying inappropriate places".
The report was also welcomed by Joseph Jones of the Gypsy Council.
He said: "By providing more pitches many of the problems associated with "unauthorised encampments" could be prevented.
Last August, a Skegness car park had to be closed after dozens of travellers set up an illegal camp there.
However, Mr Jones said the travelling community were often treated differently, in part due to negative media coverage.
He said the press "pluck one or two people out of a crowd and get them to repeat the same old things".
He added what the authorities were doing was simply "housing provision" and was no different to plans to build a new estate.