St Peter's Church in Foston damaged by winds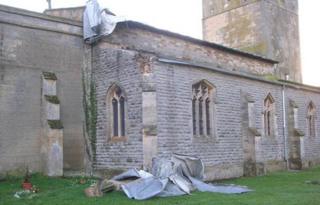 Strong winds lifted off large parts of a Lincolnshire church's lead roofing and damaged the exterior walls.
Some sections of the roofing were blown into the grounds of Peter's Church in Foston at about 16:00 BST on Wednesday.
Parish priest the Rev Harriet Orridge said the damage to the "absolutely beautiful church" was "quite extensive".
She said the church needed to be made safe and watertight so the next service could go ahead on 23 February.
Rev Orridge said: "It is very much respected within the village and I'm sure that as word gets around people will be concerned about what's going to happen to the church.
"We've got a little bit of time to be able to make the church safe, to make it watertight, and hopefully we will be in there on that Sunday."
She said it was "incredibly fortunate" that nobody was in or around the church at the time.
"I dread to imagine what would have happened if anybody had been around," she said.