Spalding armed robbery: Kristaps Vilcins and Olegs Nikolajevs jailed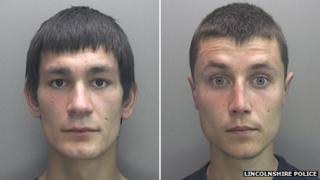 A pair of armed robbers who attacked an office worker with CS gas and an imitation firearm have been jailed.
Kristaps Vilcins, 22, and Olegs Nikolajevs, 24, took £18,500 during the raid on Wykeham Staff Services in Spalding, Lincolnshire in July. A third man involved has not been traced.
The pair, of School Lane, Wisbech in Cambridgeshire, took the money to clear drug debts, Lincoln Crown Court heard.
They were both sentenced to 10 years in prison.
Mark Watson, prosecuting, said the worker at the employment agency was temporarily blinded and beaten in the attack on 12 July last year.
He said Vilcins had then held the man at gunpoint while Nikolajevs and the third man took the cash from an adjoining office. They also took the office worker's mobile phone and cigarettes.
Vilcins and Nikolajevs were identified from CCTV and were arrested after being found living rough in a wooded area of Wisbech.
David Taylor, defending, said both men owed thousands of pounds to a drug dealer and were persuaded to carry out the raid to clear their debts.
Both men admitted charges of robbery, possession of an imitation firearm while committing an offence and possession of a prohibited weapon.
Sentencing the men, Judge Michael Heath said the raid had been a professionally planned commercial robbery.