Lincolnshire street lights could be switched off to save money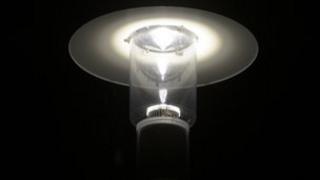 Streetlights could be switched off in parts of Lincolnshire as the county council tries to save thousands of pounds.
The authority is looking at turning off, or dimming non-essential lamps between 01:00 and 06:00.
But Councillor Richard Davies pledged that changes would only be considered when lights came up for renewal, or maintenance.
He said the authority would consult with local residents over plans.
The county council said it would also look at the possibility of dimming, or turning off every other light in particular locations.
Mr Davies said: "We are affected by the rising cost of energy just like everyone else and it has to be paid for.
"It's incumbent on us to find savings where we can."
Electricity costs for lighting in Lincolnshire have risen from just over £1m in 2001/02 to £2.77m in 2012/13.
But Councillor Kevin Greaves, of Nottinghamshire County Council, said his authority was now having to reinstate many of the street lights previously turned off.
He said: "We made a pledge to give residents the opportunity to have their street lights put back on if they wanted it and the majority have gone for that option."
He warned that vandalism and crime had risen in certain areas as a result of lights being turned off.
Mr Greaves added that the county council was now managing its budget by replacing old lights with energy efficient LED bulbs.
The cost of returning to full-night lighting will cost the authority about £110,000 a year, with a loss of £80,000 a year in energy savings.
However, Mr Greaves said the project would still make £700,000 in savings by 2017,