Lincolnshire fundraisers in New Year Honours list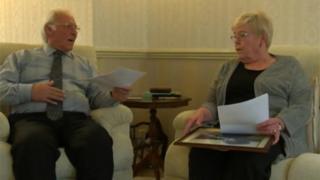 Parents who have raised more than £130,000 in memory of their daughter are among people from Lincolnshire named in the New Year Honours list.
The money raised by Ruth and Tony Knowles, from Sutton on Sea, has benefitted Hull Royal Infirmary, where their daughter Emma-Jayne was treated.
She died of a brain tumour in December 1998, two weeks before her 23rd birthday.
The couple will be awarded British Empire Medals (BEM).
They are both trustees of the Emma-Jayne Memorial Fund.
Mr Knowles said: "When Emma-Jayne died we couldn't possibly just leave it at that - we felt as if we owed Hull Royal such a lot for looking after her, and us. So that's when we started raising the money."
He described being awarded the BEM as "incredible" news and said it was a "wonderful feeling for someone to take the time and effort to nominate us".
He added that the awards were also for all the people who had helped raise money for the hospital.
'Wonderful thing'
Those named on the list also include Neville McFarlane, who is being awarded the BEM for services to the Salvation Army and to Sleaford, where he lives.
"I am honoured and I think humbled that people have considered me in this way," he said.
TV and radio personality Nicholas Parsons, who was born in Grantham, becomes a CBE for charitable services, particularly to children's charities.
Mr Parsons, whose father was GP to the family of Baroness Thatcher in Grantham, was previously appointed OBE for services to drama and broadcasting.
"I think honours are a wonderful thing to receive if you have worked hard and that is recognised," he said.
"I don't understand these people who are pompous and say they don't want it."
Patricia Mellows, from Skellingthorpe, receives the BEM for services to charitable giving in Lincolnshire.
Lincolnshire county councillor Marianne Overton, from Welbourne, is appointed MBE for services to local government.
Keith Crawford, who lives in Boston and is national vice chairman of the Royal Naval Association, is appointed MBE for voluntary service to Navy personnel, veterans and their families.
Candice Pellett, who lives in Spalding and is a district nurse for Lincolnshire Community Health Services NHS Trust, is appointed OBE for services to nursing.