Lincoln Castle Saxon skeleton research work begins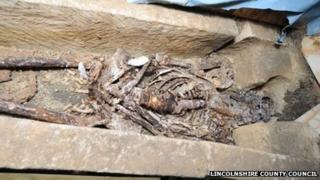 Archaeologists have begun examining a Saxon skeleton found on the site of an old church at Lincoln Castle.
The skeleton was discovered inside a stone coffin during an archaeological dig ahead of renovation work.
Experts said the remains could be those of an important member of the clergy or a pilgrim.
The skeleton, which was found wearing leather shoes, has been identified as belonging to a man, thought to be in his early 20s.
Project manager Mary Powell said "through examination of the skeleton and the sarcophagus, we will learn so much".
"We will get an exact age and a more accurate date of the period."
'Painstaking process'
She said that the research would also answer "where he came from; he could be a Scandinavian or he could be from Lincolnshire".
She added that the work on the skeleton could take several months.
"When they discovered Richard III [in Leicester], it was quite a long period from taking the skeleton from under the car park to revealing who it was.
"You need to go through this painstaking process in order to be a bit more definitive."
The limestone sarcophagus containing the remains was found alongside a previously unknown Saxon church with eight other skeletons, all buried in wooden coffins.
The team has been carrying out DNA examinations of the skeletons and hope to create a digital reconstruction of what the man in the sarcophagus looked like.
Mrs Powell added that "we may never know who the person actually was".
The dig was undertaken as part of the £19.9m Lincoln Castle Revealed project, which will see the building of a new centre to house Lincoln's Magna Carta and a tower to provide access to the castle walls.
The project is due to be completed in 2015, when many of the finds from the dig will be put on display.