Lincoln Prison 'moving in right direction', says governor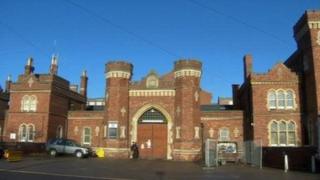 The governor of Lincoln Prison has said improvements have been made since a highly critical inspection said the jail was overcrowded and dirty.
The HM Inspectorate of Prisons report published in December said prisoners were too scared to leave their wings to go to work due to levels of violence.
Peter Wright, prison governor, said safety had been improved and the prison was moving in the right direction.
An inspection is expected at the city jail on Monday.
'Unfortunate events'
Inspectors found serious failings at category B Lincoln Prison during an unannounced visit in August.
Mr Wright said: "What went wrong... a breakdown in relationships and some unfortunate events, some bad things happened.
"When the inspectors came to the establishment they found it had really lost its way.
"Inspectors will see a prison which has got a sense of purpose and knows the direction it's moving in, but we shall see."
He added that areas of the prison have been completely transformed, and it is cleaner and safer.
"We go out of our way to communicate with prisoners especially those that have got needs," he said.
"What makes for safety is the relationship that exists between prisoners and staff."
In November, a Lincoln prison inmate was charged with murder after a 73-year-old man was found dead in his cell.