Arch plan aims to boost Lincoln's Steep Hill trade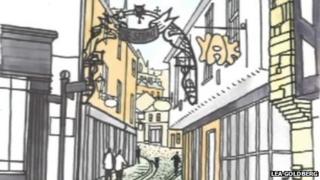 An arch could be built at the bottom of Lincoln's "historic" Steep Hill to help boost trade for independent businesses in the area.
Traders on the street, known as The Strait, said the feature would encourage more visitors to walk up the hill and shop in the area.
If approved local crafts people would create the iron arch, which will be placed at the entrance to The Strait.
Funding is yet to be secured for the project.
Traders from the Bottom of the Hill group, which represents about 40 businesses, selected their preferred design of the arch as the felt it would keep within the medieval character of the area.
The group's chairman Richard Baxter said: "A lot of people don't know what we have in this area, which is the start of the historic part of the city.
"Having an archway in place will mean it is seen by people shopping in the area at the junction of the High Street and they will be attracted to walk further up the hill."
Lincoln Business Improvement Group organised the competition to design the arch.
Matt Corrigan, from the group, said: "Once we get the go-ahead, we shall invite Lincolnshire forges and craftspeople to tender to make this piece of metalwork."
The traders hope the new archway will be installed next spring.