Croft Street Community Centre damaged by fire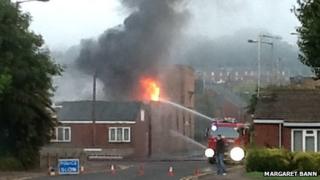 A Lincoln community centre which had recently been renovated has been severely damaged by a fire.
Firefighters were called to the Croft Street Community Centre at 06:45 BST on Sunday.
Lincolnshire Fire and Rescue said the roof and main hall had been "completely destroyed". No-one was injured in the blaze.
Manager Caroline Boltz said the centre had been renovated by a group of teenage volunteers.
'Not be defeated'
She said volunteers from the National Citizens Service had given their time to revamp the main hall and courtyard which have been damaged by the fire.
"I was devastated when I got down there," said Ms Boltz
"The young people have done a tremendous amount of work and I feel really sad for them. There is an awful lot of damage."
She said she hoped activities by the 20 groups who used the centre could continue, adding: "It is going to be an enormous job to get everything back to normal but we are not going to be defeated."
The cause of the fire is still being investigated.
Witness Margaret Bann said: "We had been moored on a boat nearby and were woken by the drumming noise of the fire.
"The flames were well above the roof. It was quite severe."