EMAS coast unit aims to cut 999 calls in Lincolnshire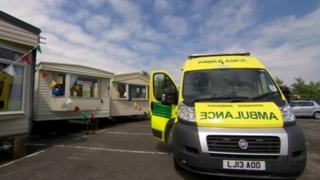 An ambulance service is aiming to reduce seasonal demands on frontline crews by having a mobile treatment unit on the coast.
A purpose-built vehicle operated by East Midlands Ambulance Service (EMAS) will visit holiday camps in Lincolnshire for the next six weeks.
EMAS said the unit would help cut the number of unnecessary 999 calls it received from holidaymakers.
The scheme will operate in Mablethorpe, Chapel St Leonards and Ingoldmells.
Staff at the unit will be able to treat minor injuries and will refer people to hospital if necessary.
Stephen Kennedy, from EMAS said: "In our experience, many holidaymakers aren't sure what to do if they have a medical problem and the tendency is to ring 999 or make their own way to a hospital.
"The scheme will allow them to make the most of their holiday by getting treatment close to where they are staying.
"As well as making things a little easier for holidaymakers, it will reduce the demands on our frontline crews who are always under significant pressure during the summer months."
Medic Paul Bramwell, who works on the unit, said: "We've got a small cottage hospital at Skegness - but a lot of patients end up going all the way down to Boston, which can be a six-hour round trip.
He added: "This is much better for the patients."
EMAS is also operating a second unit on Skegness seafront.