RAF Waddington air show: Blue skies draw huge crowds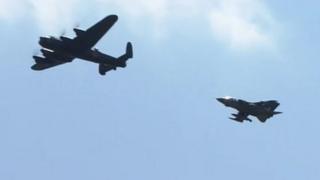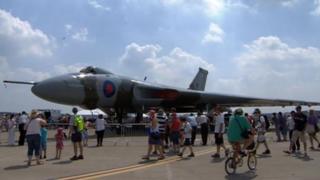 Huge crowds have turned out for the Waddington air show.
Tickets for the first day sold out early on Saturday as clear skies and high temperatures attracted the crowds.
About 70,000 people then saw shows by the Red Arrows, the Battle of Britain Memorial Flight and an international array of other display teams.
BBC Look North said the weekend attendance was over 148,000. Lincolnshire police said tailbacks on the A1 reached six miles.
There had been some concern the BBMF's Lancaster would not be able to take part in a commemoration of the 70th anniversary of the Dambusters raid after developing a fault.
Accident delays
But engineers managed to repair it in time for a flypast with a Tornado from the modern 617 squadron.
Sqn Ldr Mark Jackson, of 617 Squadron, said: "I was more nervous on the ground than I was in the air.
"Particularly when we came back later on, you could see the huge numbers of people here, you can see their faces.
"Everyone seems to have enjoyed it and the response on the ground has been great."
Capt Antoine Hauser from the Patrouille Acrobatique de France said: "Great Britain's airshows are so beautiful and so big.
"We are very proud to be here and with the beautiful weather it could not be better."
At one stage on Saturday, police reported traffic was backing up for six miles (10km) on the A1 southbound from the A17 junction.
Some visitors also experienced problems on Sunday morning when a road accident closed part of the A15 near Lincoln.