Lincoln High Street rail bridge design revealed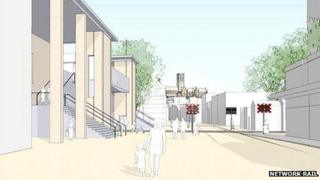 Designs for a footbridge over a busy level crossing in Lincoln are to go on display.
Two pedestrian crossings are planned, as Network Rail says the line's level crossings are misused "every day".
The company said the site on the High Street, close to the station, had been more complex but proposals would go on show next week.
Construction is due to start on the second site at Brayford Wharf in the autumn.
Phil Verster, route managing director for Network Rail, said: "Every day we see people taking risk by rushing across the crossings when the warnings have begun and even lifting or climbing over the barriers.
"We have been taking advice from City of Lincoln and Lincolnshire County Council representatives and specialists from English Heritage and the Environment Agency to try and find a suitable solution for these sites.
"The complexities of the High Street site have led to a longer design phase but we believe we now have good designs for this site too and will be holding public exhibitions on Friday 12 and Saturday 13 July for the people of Lincoln to give us their comments."
The company said it had rejected other possibilities, such as an underpass or combined vehicle and pedestrian bridge, for cost and visual impact reasons.
Designs can be viewed in Network Rail's incident vehicle which will be parked at Lincoln Station.
Proposed designs for the Brayford bridge were released in October 2012.