Multilingual newspaper appeal in Lincoln murder case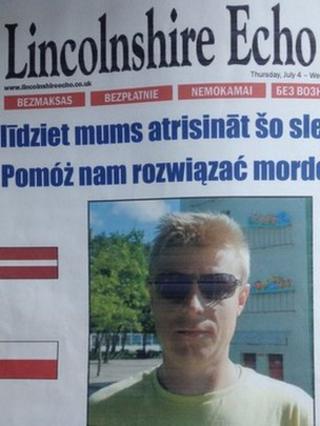 A special edition of a Lincolnshire newspaper is being published in four different languages with information about the murder of a Latvian man.
About 700 copies of the Lincolnshire Echo have been printed in Russian, Latvian, Polish and Lithuanian.
Vasilijs Ransevs, 33, a Latvian agricultural worker, was found dead in a house on Portland Street on 16 June.
The papers will be offered free in shops near the scene of the murder, a police spokesman said.
The special edition will feature a four-page section with an appeal for information about the death.
A Lincolnshire Police spokesman said it was "a good way to put information out to people".
The special edition includes a mobile number so anyone with information can contact police.
Echo editor Steve Fletcher said: "We have never done anything like this before… but when we suggested it to police they agreed."
The police force will help pay for some of the production costs of the special edition, he added.
Mr Ransevs, who suffered a head injury, had lived in Lincoln for about two years, and in Peterborough prior to that.
Police said a friend found him dead in the bedsit, and he had been last seen alive on 14 June.