Support group for tube-fed patients in East Midlands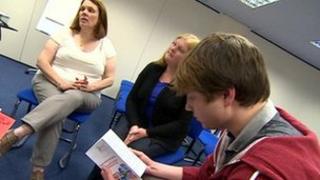 A Lincolnshire family has helped set up a support group for patients who have to rely on tube feeding to survive.
The support group for the East Midlands is an offshoot of a national organisation called Patients on Intravenous and Nasogastric Nutrition Therapy (PINNT).
About 1,700 people across the UK receive their nutrition intravenously.
PINNT organiser Carolyn Wheatley said the therapy was "challenging and highly complex".
Adam Carmichael, 19, of Cherry Willingham in Lincolnshire said he has to attach a "bag of fluid" to his chest each night to supply the nutrition he needs.
'Looking grim'
Doctors decided he needed the intravenous treatment after he started to lose weight following surgery more than six years ago.
"It really hit me when I was 13 - and I got depressed and I was on Prozac for a while but as I got older I have matured and began to understand more about it."
He said doctors still do not know why he is unable to get enough nutrition through normal channels.
Ms Wheatley said the group does not provide clinical advice but added: "Sometimes when those days are looking grim - they can get in touch with somebody who really understands the situation."
She added: "It is a challenging therapy that is highly complex - it is gives people a good quality of life but it comes with the challenge of adapting to a completely different way to eating and drinking.
"The problem is you can't see anything on the outside - but their ability to eat and drink is hugely comprised and as we all know eating and drinking is a hugely social event."
The group organises events, gives advice on a range of issues including travel arrangements and runs a website.
Other PINNT groups have been set up in the West Midlands, Essex, Norfolk, Oxford, London and other parts of England as well as in Scotland and Wales.