Parking enforcement officers photographed on yellow lines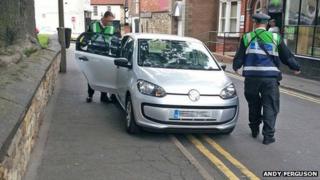 Two parking enforcement officers have been photographed parked on double yellow lines and a pavement as they ticketed a car and van in Lincoln.
The officers are allowed to park on double yellow lines in order to ticket people more quickly.
But the business owner who photographed them said there was no excuse for causing an obstruction on the pavement.
Lincolnshire County Council said the matter had been investigated and there was cause for them to park there.
But Andy Ferguson, who took the photo, believes there were two free spaces nearby where the officers could have parked instead.
"As well as being parked on double yellow lines they were causing an obstruction on the pavement, which has got everyone's backs up a little bit more," said Mr Ferguson.
"If someone had been going along in a wheelchair or with a double buggy then they wouldn't have been able to get past.
"They would have had to go in the road instead."
Mr Ferguson, co-owner of LA Reptiles, photographed the officers near his business in St Martin's Lane on Sunday.
He said they were there for 11 minutes, from 14:13 BST.
Councillor's parking ticket
Councillor Richard Davies, the county council's portfolio holder for highways and transport, said he could understand why people had been infuriated by the photo.
"I've been on the receiving end of a parking ticket fairly recently from these guys and it's particularly galling when you then see something like this," he said.
But he said it was a better use of taxpayers' money if parking officers could park quickly in order to issue tickets.
"It's certainly not something I would want to see them doing all of the time, but if there isn't somewhere more appropriate for them to park and it's only for a brief period, I'm comfortable with people doing it," he said.
Mr Davies said he was given a ticket for parking in a taxi bay in Grantham when he went to a meeting at Grantham Museum.
He thought the restrictions did not apply after 18:00, but they did.