Lucy Tower car park to stay closed for longer than expected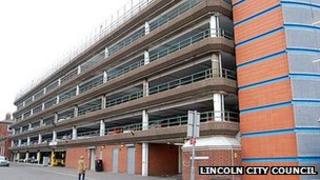 One of Lincoln's main car parks will stay closed for longer than expected after workers discovered further repairs were needed.
The Lucy Tower car park closed in March for structural repairs and work was originally due to take five months.
A council spokeswoman said work had halted while new timescales and costs were being drawn up and it could now be November before the car park reopened.
Nearby businesses said they had noticed a drop in footfall since work began.
'Difficult time'
One shop owner, who did not want to be named, said: "It has been 12 weeks now and there is less footfall and less people about. A few of the restaurants nearby are struggling as well."
Rod Williamson, manager for City of Lincoln Council's car parks, said: "It is a very popular car park and we appreciate it is a difficult time for businesses but we have still got spaces in our other car parks so there is room to come in.
"It is also in our interest to get the car park back up and running."
The car park was built in 1973. Expert engineers said over the years the cold weather and salts brought in from the roads had caused corrosion to parts of the car park that needed to be repaired.