Stamford hospital under 'threat of closure' says MP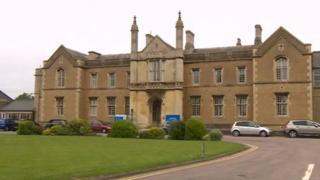 An MP is calling for a hospital to be transferred to another trust if its fiscal problems are not resolved.
MP Nick Boles fears Lincolnshire's Stamford Hospital could shut because of a £45m deficit at Peterborough and Stamford Hospitals Trust.
The financial problems resulted from a private finance initiative (PFI) used to build Peterborough City Hospital, a trust spokesman said.
The trust said Stamford Hospital remained a key part of its plans.
Mr Boles, Conservative MP for Grantham and Stamford, was speaking ahead of a report expected out on Friday by Monitor, the organisation which oversees health trusts.
'Penalised for flaws'
It will set out detailed plans on how the trust can cut its deficit.
"The financial crisis at the Peterborough trust is intense," Mr Boles said.
"It is a proper catastrophe and it is a direct result of some grossly incompetent decisions made to back a PFI scheme to build the hospital in Peterborough that was based on figures that were literally totally incredible, they could never have come true.
"I just don't believe that the people of south Lincolnshire should be penalised for the flaws of some senior managers in the NHS five, six years ago."
He called for the hospital to be transferred out of the trust to one of the Lincolnshire NHS trusts if the financial problems are not resolved.
In a statement Dr Peter Reading, interim chief executive at the trust, said: "The trust's board of directors considers the hospital to be key to ensuring we continue to deliver a range of quality services to patients in Lincolnshire."
The trust added in a statement: "Earlier this year, the trust produced a business case to redevelop Stamford Hospital to expand services to treat more patients than ever before.
"We put this business case on hold in March 2013 pending the Contingency Planning Team's review of the trust as a whole - however the trust remains committed to this business case."
Stamford mayor Brian Sumner said: "I would fight to retain any services we can in Stamford, we do not want to lose any facilities in Stamford, we do not have very many now."
Stamford Hospital has an outpatients department, a minor injury unit, one operating theatre and a day surgery unit.