Captain Cook artefacts on show at Lincoln's Collection Museum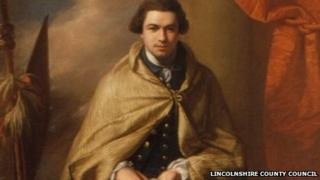 Artefacts collected by Lincolnshire explorer Sir Joseph Banks during Captain Cook's first voyage are to go on display.
A £140,000 grant from the Heritage Lottery Fund (HLF) has funded the exhibition, which will take place at Lincoln's Collection museum, in 2014.
A selection of Maori weapons and a Tahitian chief's headdress will be among the items on show.
The HLF said previously unseen material would be part of the exhibition.
'Maori pendants'
Andrea Martin, from Lincolnshire County Council, said the idea for the exhibition came after a meeting with the Sir Joseph Banks Society and Nottingham Trent University - where they have the Sir Joseph Banks archive.
She said it will centre on Benjamin West's portrait of him surrounded by many of the artefacts he brought back to England when he accompanied Captain James Cook on his first Pacific voyage aboard the Endeavour - between 1768 and 1771.
The exhibition will include "things like canoe paddles and Maori pendants" she said.
Dr Cheryle Berry, from the Sir Joseph Banks Society, said: "We are delighted the HLF award will help us to significantly raise awareness of the life and work of Sir Joseph Banks.
"It will inspire learning opportunities for people of all ages."
A series of talks and events are also planned throughout the three-month display, including a smaller show, which will tour a range of venues in the region.