Farmer provides 'life-saving' help to weather-hit farms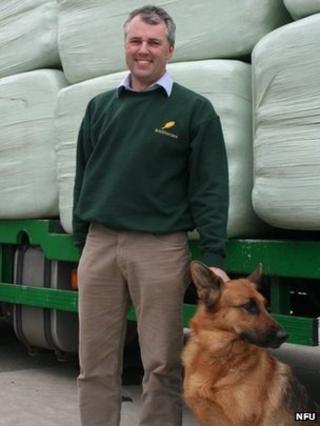 A Lincolnshire farmer has set up a scheme to help stricken farms in other parts of the country.
Andrew Ward, from Leadenham, set up the Forage Aid Initiative after heavy snow in March left many farmers struggling to feed their animals.
So far the scheme has transported 21 lorry-loads of hay and silage to farmers in Cumbria, Wales, Devon and North Yorkshire.
One farmer who benefited from the scheme said it was a "life-saver".
Mr Ward, an arable farmer, said he started the scheme in April when he realised the haylage he had in his barn could be of use to farmers who were suffering shortages.
'Food parcels'
"I started by donating the last of my bales of haylage," he said. "I then put some adverts over the internet and in Farmers Weekly to see if others wanted to do the same."
He said in the four weeks the scheme has been running, around £75,000 of forage has been donated.
In addition, haulage companies have donated their vehicles and drivers to transport the forage to the farmers.
"You just have a job to comprehend the hardship those farmers and their animals are enduring," said Mr Ward.
"The family of one farmer I spoke to was living off food parcels because the money he would normally spend on food for his children, he was spending on his animals."
Rhodri Evans, a cattle farmer in North Wales, accepted 13 silage bales to feed his cattle.
He said: "The scheme is a life-saver - not just for the farmers but for the cattle as well. For Andrew to think about sending stuff to people he doesn't know is amazing."
Mr Hall plans to continue the scheme for a further two months. However, he is now looking for help to administer it.