Lincoln Cathedral peregrine falcon chicks born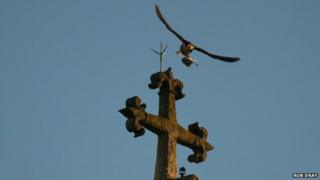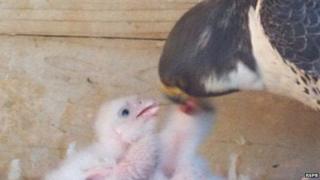 Peregrine falcon chicks have been born on Lincoln Cathedral for the seventh successive year.
During the time, the same pair of birds have nested on one of the cathedral's towers and have raised a total of 13 chicks.
The RSPB has now set up a view point, which will run until the end of July, so visitors can see the peregrines.
This year's brood of three, which were born last week, can also be seen on a live webcam placed near the nest.
Kerry Davis, from the RSPB, said: "We're all completely thrilled.
"As the birds have been coming and going for food for their newborns, we have been able to set our nest cam up so that we can watch them as the chicks grow."
She added: "It's not every day you get the chance to watch these impressive birds while on your way to work, so it's fantastic that the project raises awareness of peregrines in the city."
Peregrine falcons are one of the fastest of birds, achieving speeds of over 120mph (200kph).
There are currently fewer than 1,400 breeding pairs in the UK.
Although they usually favour rocky cliff tops to make their nests, pairs have bred successfully in places as diverse as a disused nuclear reactor, and on top of a building belonging to Nottingham Trent University, as well as cathedrals in both Norwich and Derby.