Lincolnshire police panel head Ray Wootten steps down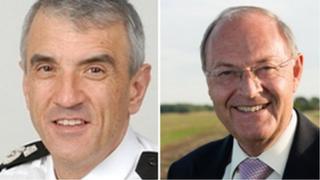 The chairman of Lincolnshire's Police and Crime Panel is to stand down after "inadvertently" misleading MPs.
Ray Wootten was questioned by a select committee on Tuesday discussing the suspension of temporary chief constable Neil Rhodes.
The county's Police and Crime Commissioner (PCC) Alan Hardwick had suspended Mr Rhodes in February but he was reinstated after a judicial review.
The police and crime panel's role is to oversee Mr Hardwick's decisions.
Home Affairs Committee Chairman Keith Vaz MP lambasted the panel's handling of the affair as "shambolic".
'Very sorry'
Mr Wootten was asked by MPs why it had taken 72 days to hold an extraordinary meeting about the chief constable's suspension and about the apparent lack of scrutiny from the panel.
In a statement on Thursday, Mr Wootten corrected evidence he gave before the committee and said he would stand down as chairman in June but continue as a member of the panel.
He said: "I believe that I inadvertently gave the incorrect impression that I was not allowed to hold an extraordinary meeting of the Police and Crime Panel. I now accept that this was incorrect.
"The correct position is, I was given advice that it was not desirable to hold a meeting of the Police and Crime Panel to discuss the suspension of the acting chief constable, whilst various legal and HR issues were still under investigation, for example the judicial review and the Sir Peter Fahy investigation, which is still on-going."
He added: "I have already apologised to the legal officer I referred to at the select committee and will be sending a correction to the select committee chairman, Keith Vaz MP.
"I am very sorry that this misleading impression was given, my only explanation was I felt under excess pressure at the hearing and did not explain the situation clearly enough."
Mr Wootten defended his decision not hold a meeting until May, pointing out he had formed a special task group to investigate the circumstances of Mr Rhodes' suspension.
While the specially formed task group only has powers to make recommendations to the PCC, the panel can veto senior officer appointments and the setting of the council tax.