Lincolnshire PCC stands by decision to suspend chief constable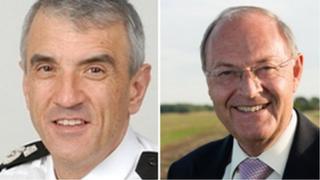 Lincolnshire's Police and Crime Commissioner (PCC) Alan Hardwick has told MPs he was right to suspend the county's constable.
He suspended temporary Chief Constable Neil Rhodes in February, but he then returned to work after a successful judicial appeal in March.
Mr Hardwick told the House of Commons Home Affairs Committee, he made the right decision.
A special task group is now looking into events around the suspension.
"I remain convinced that I made the right decision," said Mr Hardwick.
"I accept entirely the High Court judge's criticism. The point at the judicial review was a very narrow point about interpretation over a set of circumstances.
"I still maintain that my interpretation was correct. The judge disagreed with me."
Mr Rhodes was suspended over allegations that he helped a Muslim lawyer pursue a claim of racial discrimination which he knew to be contrived.
The committee, which summoned Mr Hardwick to answer questions about the past months' events, asked the PCC whether it was now difficult for him to work with Mr Rhodes.
"No, it is not difficult for me at all," said Mr Hardwick. "We are both professionals, we have a good and sound working relationship."
Mr Hardwick has commissioned Sir Peter Fahy, chief constable of Greater Manchester Police, to carry out an investigation into the matter.