Swaton village's 'Eric the pothole' finally filled in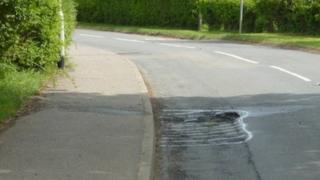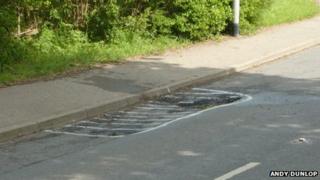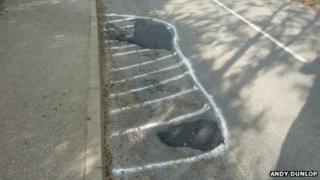 A large pothole in a Lincolnshire village that had its own Facebook page has been repaired.
Andy Dunlop, from Swaton, said the damaged surface outside his home forced drivers to cross lanes to avoid it.
He said he reported the B1394 pothole, measuring 11ft (3.3m) by 4ft (1.2m), to the county council five weeks ago.
The council said the hole, nicknamed "Eric" by residents, would be repaired and it was fixed on Monday afternoon.
'Blind bend'
Mr Dunlop said he set up the Facebook page on Sunday as a joke but with a serious point.
"Someone said, 'when are you going to get your pothole fixed?' But it's not my responsibility, it's everyone's.
"It has damaged car tyres and wheel rims, which could cost around £400-£500 in repairs."
Mr Dunlop said other people in the village had also reported the pothole but that he only ever had automated computer responses from Lincolnshire County Council.
"It has been getting bigger and bigger," said Mr Dunlop. "Locals are driving across lanes to avoid it and it's on a blind bend. Cyclists in particular are at risk."
The council released a statement on Monday, shortly before the pothole was filled in, confirming repairs were about to take place.
Rowan Smith, the council's area highways manager, said: "Potholes are a problem on our roads and one that the county council takes very seriously.
"We have had a large number reported to us in recent months, but we have already been able to treat many of them and the rest are scheduled for repair."
Potholes form when water seeps into cracks in the road and freezes, breaking up the asphalt.