Spire of St Wulfram's church in Grantham needs repairs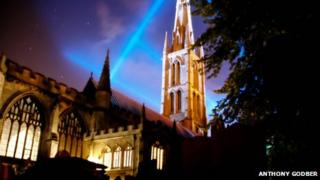 A church spire atop what has been described as "the finest steeple in England" needs repairs to prevent it falling down.
Victorian art critic John Ruskin supposedly swooned when he first saw St Wulfram's Church in Grantham, Lincolnshire.
But metal rods inside the spire have eroded and £600,000 needs to be raised to repair the top 40ft (12m).
A bike ride was held earlier and raised between £6,000 and £7,000.
Simon Hopkins, one of the organisers, said: "Businesses large and small have been supporting the event and putting teams of cyclists of all abilities together."
'Masterpiece of art'
Newspaper columnist and author Simon Jenkins wrote about the church in his book England's Thousand Best Churches, saying "Here is the finest steeple in England".
He wrote: "The taper of the spire seems perfectly judged, with its ribs and three tiers of diminishing lucarnes covered in ballflower, as if infested with golden snails.
"Grantham's tower ranks with any masterpiece of English art. Such was the effect on Ruskin that he (allegedly) swooned on first seeing it."
Rector Christopher Andrews said it was impossible to think of the church without the top part of its spire.
"The spire is a national landmark and a proud symbol for Grantham and its people," he said.
"It has stood watch over the town for 700 years."