Lincolnshire Chief Constable Neil Rhodes suspension probe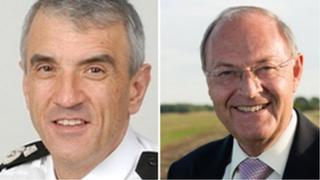 The decision to suspend a chief constable by a newly elected police and crime commissioner (PCC) will be investigated by a special group.
Lincolnshire's PCC Alan Hardwick suspended temporary Chief Constable Neil Rhodes, but he returned to work after a successful judicial appeal.
Now the county's police and crime panel has established a special task group to look into the recent events.
Chairman Chris Cook said he hoped to prevent a repeat of the circumstances.
"This work will be thorough and we will be asking challenging questions before reporting back to the Lincolnshire Police and Crime Panel later in the year," he added.
'Not a toothless tiger'
The panel is made up of 10 councillors representing the county's district and borough councils, with two independent co-opted members.
Its job is to oversee the PCC office's decisions, some of which - including senior officer appointments and the setting of council tax - it has the power to veto.
But it has been forced to defend the task group because it will only be able to make recommendations, and has previously been criticised by a government adviser for not taking a more active role.
Chairman of the panel, South Kesteven Councillor Ray Wootten, said: "We are not a toothless tiger. Though we have no power to dismiss the PCC, I think it would be a brave PCC who dismisses our recommendations."
Following the High Court case, Mr Hardwick said Mr Rhodes would continue in the role because it was in the police's best interests.
The reason for Mr Rhodes's suspension - over an employment dispute - was only revealed in the judicial review.
Mr Hardwick has commissioned Sir Peter Fahy, chief constable of Greater Manchester Police, to carry out an investigation into the matter.