Tories strike coalition deal to run Lincolnshire County Council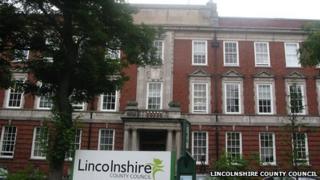 The Conservatives have struck a deal with the Liberal Democrats and several Independents to form a coalition to run Lincolnshire County Council.
No party achieved an overall majority at the election with the Conservatives three short of the minimum required.
The party failed to regain control of Lincolnshire for only the second time in the local authority's history.
Tory leader, Martin Hill, said: "I'm pleased we now have a way forward and can get things sorted out."
'Difficult times'
He said: "What's important here is the stability of the council. We all know we've got these difficult times ahead, and the last thing we need is uncertainty."
The party's heavy losses were blamed on UKIP, which picked up 16 seats, while Labour won 12. Lincolnshire Independents achieved eight and the Lib Dems three - two independent councillors were also elected.
UKIP's East Midlands regional chairman, Chris Pain, said he did not want a coalition with the Conservatives but preferred an "open council".
All three Lib Dems elected, Pat O'Connor, John Marriott and leader Reg Shore, will join the coalition.
At least three Lincolnshire Independents, Chris Brewis, Bill Aron and Angela Newton, with the latter leading the group.