Boston reacts to UKIP's election success in Lincolnshire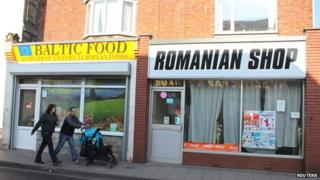 UKIP surprised many people in Lincolnshire by taking 16 seats off the Conservatives at the local elections. The BBC examines how the anti-EU party's success has been received in the town of Boston, where the number of migrants has increased tenfold in the past decade.
"I think they should go back to their own country, really," said one elderly woman waiting for a bus.
"People here can't get housing. The council should think more about their own people."
This was one of several comments made during my visit to the Lincolnshire market town.
The sentiment was often repeated, along with delight at UKIP's success at the recent county council elections, but many were uncomfortable at putting their names to their views.
The Boston Community Forum now fears years of hard work improving relations could be undone.
"I'm concerned that if some of the policies that UKIP promote come to the fore, they will actually damage the work that we are trying to do," chairman Robert Laubert said.
"We've been building community relations, working on community cohesion to actually promote Boston as a good place to live and if that's damaged our work will be put back years."
The town saw a huge rise in immigrants, mainly from Eastern Europe, between 2001 and 2011, according to the 2011 Census.
Of the 64,000 people now living in the borough, about 12% were born in EU countries other than the UK.
By contrast there were just 634 people born in continental Europe living in the town in 2001, driving claims the changes have put pressure on local services.
A kindly looking gentleman, happy to talk to me, was another person unwilling to give his name.
"The success of UKIP is good for the locals. Immigration is quite a problem here in Boston - we're overrun by immigrants. We need to curb how many people can come in."
Within the Eastern European community, many people were similarly reticent about talking out.
For some it appeared - although was not explicitly clear - they did not want to talk about the topic for fear of causing trouble.
'It doesn't bother me'
Some of those people I spoke to could not get past the language barrier, while others still were not happy at speaking on behalf of a community.
But comments from those who were prepared to speak revealed a pragmatic approach.
Dara Ltaif moved to Boston three years ago to set up his mini-supermarket Costa Sklep.
He said: "It doesn't bother me about UKIP. The type of people who vote UKIP don't come in my shop.
"It doesn't make any difference to me who is in charge. I pay my taxes and I pay my rent.
"If immigration is such an issue, they shouldn't have let anybody in in the first place. We're here now, spending money, paying taxes and running businesses."
Vida Cudaneciene says she prefers Boston to her home country of Lithuania - but she had not even heard of UKIP. Nor was she worried about discrimination by the council.
"Here I work hard, it's only minimum wage, but I bring something home for my children, I can look after them," she said.
"I'm not worried about the council. If I have a problem I go to them and they help me - they are very friendly."
Her attitude will please the Conservative-controlled borough council which has moved to allay fears that migrants could get a rougher deal following UKIP's success at the county council level.
Councillor Mike Gilbert, portfolio holder for community development at Boston Borough Council, said: "It is my view that the unprecedented swing towards UKIP was the public's way of expressing frustration to politicians at national level and beyond about the undue influence of the European Union.
"Boston Borough Council will continue to act with fairness to all, which it is required to do by law.
"If feelings of anxiety generated by UKIP are affecting the migrant population, it is for those newly-elected UKIP politicians to deal with those anxieties in the best way they see fit."
UKIP is now the second largest party on Lincolnshire County Council which is run by a Conservative and Liberal Democrat coalition.
Speculation that this could lead to migrants facing persecution was laughed off by Chris Pain, UKIP's newly elected county councillor for Wainfleet and Burgh.
"I think it's quite funny they are worrying about being persecuted. The people being persecuted are local people that have lived in the Boston area for years," the UKIP group leader said.
"They've realised that they have woken up and local society has changed beyond all recognition.
"They are saying 'enough is enough'. They are not happy about it."
But work to cement relations in Boston will continue, and the Eastern European community hopes to improve education about migrants.
Latvian society chairman Ziedonis Barbaks said "We are not here for taking the jobs, we just want to live in the town.
"I think they (UKIP voters) just hear what they want to hear. They don't listen to us Eastern Europeans - that's why we are trying to get more information out there."