Lincolnshire UKIP may reject Tory coalition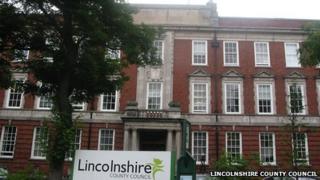 UKIP could refuse to form a coalition with the Conservatives to run Lincolnshire County Council, the party's regional chairman has said.
No party achieved an overall majority at the election with the Conservatives three short of the minimum required.
Chris Pain, who was among those elected, said he wanted an "open council" with no party in overall control.
UKIP will not elect a group leader until Friday.
Discussions between the party and the Tories are ongoing while Labour and the Lib Dems have also been in talks with other parties over forming a possible coalition.
'Shambolic coalition'
The Tories failed to regain control of Lincolnshire for only the second time in the local authority's history.
Its heavy losses were blamed on UKIP, which picked up 16 seats, while Labour won 12. Lincolnshire Independents achieved eight and the Lib Dems three while two independent councillors were also elected.
Mr Pain, UKIP's East Midlands regional chairman, said he did not want a coalition with the Conservatives but preferred an "open council".
"[The electorate] has not voted the Conservatives into control, that's not what they want," he said.
"If Labour bring forward a proposal, or the Conservatives, we are happy to support everything that we think is beneficial to the county."
Martin Hill, leader of the Tory group and former leader of the council, expressed dismay that negotiations with UKIP would have to wait until Friday, when the party elects it's group leader, adding that the council needed a stable coalition.
"It's all about finding a way forward. The last thing Lincolnshire needs, the council needs, is some kind of shambolic coalition," he said.
Meanwhile the Lib Dems and Labour both said they are in talks with the other party leaders.
Reg Shaw, Lib Dem leader, said: "Any number of combinations could achieve control, it's even been mooted a rainbow coalition - I think that's a frightful proposition."
John Hough, Labour leader, said: "We haven't taken any decisions about what we should do or how we should do it."
The annual meeting, which will formerly elect a leader of the council, is on 17 May.