Moulton windmill's flour-from-sail power for first time in 120 years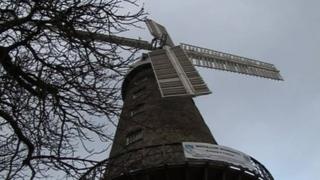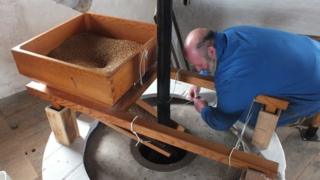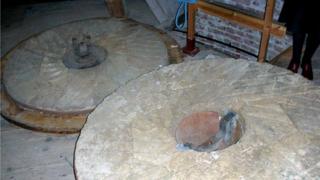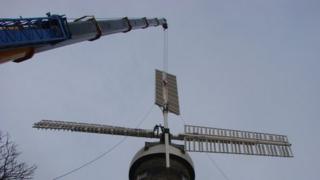 A listed windmill has begun producing flour under wind power for the first time in more than a century.
Moulton Mill near Spalding, Lincolnshire, has undergone a £2m restoration after villagers spent 15 years restoring it to working order.
With its 100 ft (30m) ten-storey tower, the mill is now the tallest complete working windmill in England.
Manager Janet Prescott described the use of the new sails to produce flour as "history in the making".
Since the windmill's sails were damaged in 1894, flour had been produced using steam power and electricity.
Moulton residents formed a project group in 1998 to preserve and promote the mill.
The first phase of the restoration work began in 2004.
'Much-loved landmark'
Money for the work came from vigorous fundraising by local residents plus contributions from environmental body WREN, the Pilgrim Trust, Leche Trust, Maud Elkington and the Lincolnshire Freemasons.
The four new sails were installed two years ago and last month the mill celebrated its first bag of flour produced by stones powered with wind.
Mrs Prescott, who led the project, said: "We have been a long time waiting for this. It has been more than 120 years since anyone milled flour in this windmill so it is a fantastic occasion for us.
"The tower is a much-loved landmark, as well as playing a fundamental part in the heritage of this area. This is truly history in the making."
Mrs Prescott said their next project will be to try and generate their own electricity through sail power.