Bourne Town Council plea to 'reuse' old graves in space shortage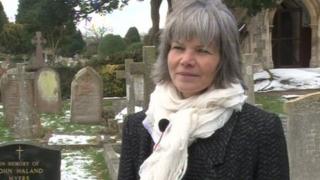 A council running out of burial space is calling on the government to allow it to reuse graves.
Bourne Town Council in Lincolnshire has proposed that graves could be used again 75 or 100 years after the last burial.
The Cemetery Research Group said a shortage of graves was becoming a national crisis.
The Ministry of Justice said it was advising burial ground managers to make the best use of space.
Nelly Jacobs, town clerk of the council, said: "After 100 years the chance that you find any remains is very slim. The option would be to just bury them deeper.
"Just having the power to reuse graves doesn't mean every cemetery authority is going to be digging up old graves. It would be properly done when the need arises."
The town council estimates it will run out of burial space in five to 10 years, and residents could be forced to use plots outside of their community.
There have been about 10,000 burials at Bourne Cemetery. Most were bodies in coffins, with a small number of ashes in caskets.
Allowing graves to be reused would release about a third of spaces, Mrs Jacobs said.
'Get a grip'
She said the council had been looking for extra land for several years but had not found any that is suitable.
"If we had to buy an expensive plot of land it would fall back on the taxpayer," Mrs Jacobs said.
Dr Julie Rugg from the Cemetery Research Group said the government needs to "get a grip and deal with" the shortage of graves.
"The government is really resisting having a discussion about this particular problem," she said.
"Maybe 50 years ago a lot of people thought cremation was the answer ... but we are over 70% cremation at the moment and there's simply people who don't want to be cremated, and we can't force people to be cremated."
A Ministry of Justice spokesperson said: "We are aware of the difficulties some burial authorities are experiencing both with a shortage of burial space and in finding practical and affordable alternatives.
"That is why we are offering help and guidance to burial ground managers so they can make best use of their cemeteries and ensure people are laid to rest with dignity and respect."