Sleaford straw-fired power plant set to open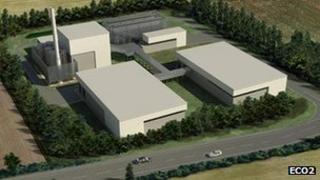 A straw-fired power plant that will burn 240,000 bales a year is set to begin production in Lincolnshire.
The Sleaford renewable energy plant, run by Eco2, will generate enough electricity for 65,000 homes.
Fuel will be sourced from within a 50-mile radius of the plant, which will employ about 80 people.
Andrew Toft, project director for the plant, said work was ahead of schedule and production could start as early as September.
'Blot on landscape'
Local residents have raised concerns over extra traffic and fears the plant would blight the area.
Robert Hipworth, chairman of Kirkby-La-Thorpe parish council said: "When this was in planning stages the whole village were united against it but the district council didn't want to take any notice.
"There will be increased vehicles coming through the village and it is a blot on the landscape but there is very little we can do now. We have to look at the best way forward now to manage whatever impact we have from it."
Mr Toft said an agreement with the local council would ensure a designated lorry route avoided Sleaford town centre.
Low emissions
"The issue of straw supply is one we face all the time during financing for a plant like this," he said.
"We have to get it absolutely spot on before we are given a single penny to start construction.
"We have long-term contracts in place for the vast majority of the straw, which will be sourced from within a 50-mile radius of the plant."
Mr Toft said the emissions from the plant were lower than a conventional power station and ash from the plant can be used by farmers as crop fertiliser.
Heat from the plant will also be used by Sleaford's public swimming pool, the indoor bowling centre, the football club and North Kesteven Council's offices.