'Red hair revenge' attack on Lincoln boy sees men jailed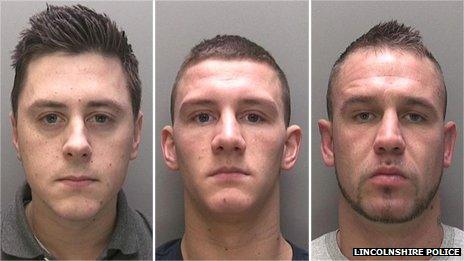 Three men have been jailed for attacking a boy for having red hair.
The boy, 14, was playing football on a Lincoln estate when his arm was broken by men "wanting revenge after another red-haired youth abused their sister".
Nathan Booth, 22, stamped on the boy's head before his brother Callum, 27, and their friend James Hatton, 25, also "piled in," Lincoln Crown Court heard.
Booth, from Addison Drive, was jailed for five years and nine months after admitting causing grievous bodily harm.
'No reason'
Callum Booth, 27, of Lancaster Court, and Hatton, 25, of Lamb Gardens, St Giles, admitted the same charge and were each jailed for 26 months.
The court was told the men had gone out seeking some form of revenge after another youth with red hair verbally abused the sister of the Booth brothers.
The victim, who cannot be named, told the court how he was playing football with friends on the Birchwood estate when Nathan Booth approached him, asked for the time and then attacked him.
The boy suffered a broken right arm as he tried to protect his head and later needed surgery to insert a metal plate to repair the injury.
Judge Sean Morris said: "There was no reason for the attack. Worse than that, it was just because he had red hair."
Nathan Booth was previously jailed in 2009, also for causing grievous bodily harm.