Clearing coastal sand drifts 'remains a priority'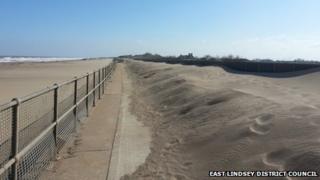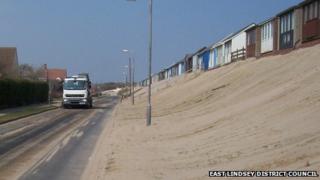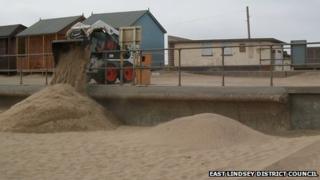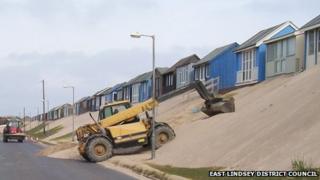 A council which has battled with sand drifts for more than a week says clearing them remains "a priority".
Parts of the Lincolnshire coast were hit by strong Siberian winds earlier this month blowing tonnes of sand across the promenades and walkways.
One of the worst hit areas has been Sandilands near Sutton-on-Sea where sand has also covered people's gardens.
Resident Carol Masters said: "It was like a sandstorm, it was awful. At times you couldn't see properly."
'Mammoth task'
Bulldozers and tractors have been brought in to tackle the problem and council officers said it could still take several weeks to remove the remaining 3,000 tonnes of sand.
James Gilbert, spokesman for East Lindsey District Council, said every year they cleared sand ready for the Easter holidays and start of the tourist season but this year had been more difficult.
He added: "Although it is a challenge every year to clear the sand we keep on top of it but the challenge the teams face this year is phenomenal. We have still got a mammoth task ahead of us but it will be a priority because it needs doing.
"We are doing everything we can to clear the promenades and walkways but it is simply not possible for us to go into individual homes to clear gardens. It is just one of the hazards of living by the coast."
Strong easterly winds and tidal currents have also taken their toll on wildlife along the coast.
The Lincolnshire Wildlife Trust said more than 160 birds had died under the conditions and thousands of fish had been washed up on beaches in the past two months.
A spokesperson said: "Although it is normal to see some animals washed up, these records are very unusual and highlight the pressures our wildlife faces."