Plans to build 'gateway' into Grantham 'may not go ahead'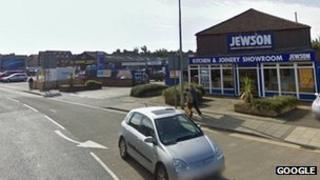 Plans for a £4.1m business centre in Lincolnshire have suffered a major setback.
The Grantham Growth Partnership planned to develop the centre, along with hotels and restaurants, on a site near the town's railway station.
However, the government rejected two compulsory purchase orders for the land required to build the centre, saying the plans were not commercially viable.
Lincolnshire County Council said the development may not now go ahead.
Jenny Gammon, assistant director of economy and culture at Lincolnshire County Council, said: "We are looking at whether there's a way we can continue with part of the plans."
The Grantham Growth Partnership, which consists of members of the county council and South Kesteven District Council, said it was disappointed with the decision.
The partnership was formed after the government identified Grantham as a town likely to have a population increase of over 30% by 2026.
'A nice gateway'
As a result, the Department of Communities and Local Government granted £6m to the town to help it develop housing and business.
The partnership had hoped the development would bring up to 1,000 jobs to Grantham.
However, the plans required the partnership to use land which is currently owned by Jewson and Tanvic Tyres.
Eric Pickles, the Secretary of State for Communities and Local Government, rejected the partnership's request for a compulsory purchase order.
He said he was concerned the plans would replace two existing businesses with a centre that may be empty for years.
Bijal Ladva, the former chair of Grantham Business Club, said the development would have been a nice gateway into the town.
"It's a bit of a shame, especially as Grantham station is so busy and we are so accessible to people from all over the country."
Neither business was available for comment.