Sleaford council refuses to sell land for Tesco redevelopment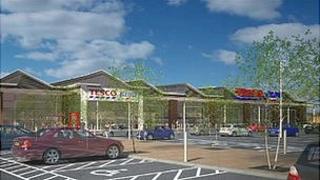 A four-year row over land in a Lincolnshire town has reignited after a supermarket chain reaffirmed its commitment to invest in the area.
Tesco received planning permission for a new store in Sleaford in 2009, and this week confirmed it still intended to go ahead with the project.
However, Sleaford Town Council refuses to sell land needed for an access road, because it includes rare woodland.
The district council said it hoped "common sense would prevail".
'No alternatives'
Sleaford town clerk Shelagh McIntyre said the playing fields at the centre of the development row were an important asset for the town.
"Since 2008 the town council has said it does not want to sell the land, the people of Sleaford do not want us to sell this land and nothing has changed," she said.
"We have seen no evidence that alternative routes for this road have been fully investigated. It is a larger issue than just a piece of land."
Tesco said it hoped to build the £50m store, which would create an estimated 230 jobs, within three years.
It confirmed it would still build in Sleaford, despite delays on the development of the Bass Maltings complex, which includes apartments, shops and restaurants.
Long-term gain
North Kesteven District Council said it was vital for the local economy that work went ahead.
Councillor Marion Brighton said: "I hope the council will see that if Tesco are offering a reasonable price it will bring a lot of benefits to the people of Sleaford.
"To give a strip of land to get a route over the railway line for the development is absolutely necessary and is a small-term loss for a long-term gain."
Chief executive of North Kesteven Council, Ian Fytche, also supported the development which he said would bring a "significant boost" to the town and in turn bring forward the development of the Maltings.