'Sad day for Lincoln' as council cuts services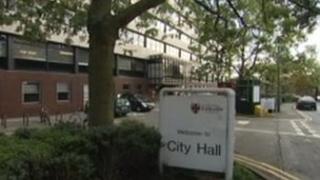 Unions have described as "devastating" a decision by the City of Lincoln Council to cut some of its community services.
From July, the authority will make nine redundancies and remove its sports development service in a bid to save £1m from its budget.
Council leader Ric Metcalfe said the decision had been difficult.
John Morris, Unison secretary in Lincoln, said it was a sad day for the city.
Mr Morris said the council had been backed into a corner as the result of cuts in government funding.
He added there was the potential for anti-social behaviour to increase in the city as a result of the redundancies, which also include cuts to commons wardens and urban rangers.
Urban rangers patrol the city and help control anti-social behaviour.
"At the moment, this is nine people," Mr Morris said. "One hopes that doesn't develop further but one worries for the future."
The decision was made despite a 1,200 name petition against the removal of urban rangers being presented to the committee.
Mr Metcalfe said it was essential action for the authority to take in order to save £3m over the next four years.
The council's executive board met on Monday evening to discuss the closures.
'No option'
Mr Metcalfe said the services would be replaced by volunteers and he hoped working with other organisations in the city could help replace the closed sports and leisure services.
He added: "We share people's concerns but our anti-social behaviour team and other communities staff and volunteers will continue to liaise with the police to ensure people can safely enjoy the city's open spaces."
Earlier this year proposals to raise parking charges and charge residents £25 a year for their garden waste bins to be collected were also approved.