Lincolnshire parish councils could pay for PCSOs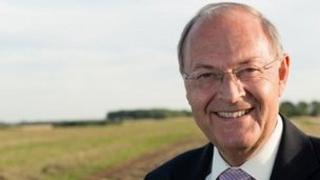 Parish councils in Lincolnshire could be asked to fund volunteer PCSOs under new proposals.
County police and crime commissioner Alan Hardwick said a locally-based officer would give communities a close and trusted link to policing.
He admitted costs were not yet known but said he expected the volunteers to have the same powers as other PCSOs.
Sibsey Parish Council said villages were desperate for a police presence but funding was exceptionally tight.
Mr Hardwick said the idea was designed to echo the traditional parish constable, describing them as "someone known to all the communities".
Plans 'exciting'
"They would be the first point of contact for many people with Lincolnshire police - people would know who they were and where they lived," said Mr Hardwick.
He added: "In this day and age it is impossible to go back to the bobby on the beat but this is the nearest thing to it.
"It's not policing on the cheap. What it's doing is offering people a chance to help their communities."
He said some residents had already expressed interest in the idea of becoming parish PCSOs.
Val Hackett, vice chair of Sibsey Parish Council, said: "No-one has told us what this means in terms of cost and, like everyone else, we are answerable to the rate-payer."
Councillor Ray Wootten, chair of the Lincolnshire police and crime panel, described the plans as "exciting".