Aviation heritage guide highlights 'Bomber County' sites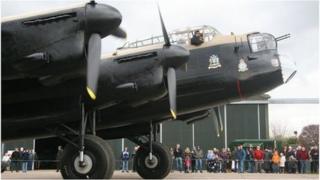 A guide to the aviation heritage of part of "Bomber County" is being launched to encourage more visitors.
The guide features more than 20 places to visit in the Lincolnshire district of East Lindsey.
Lincolnshire became known as Bomber County because it had more than 100 RAF airfields and bases in World War II.
The guide will be launched at the Petwood Hotel in Woodhall Spa, previously the officers mess of No. 617 "Dambusters" Squadron.
The release of the guide coincides with the 70-year anniversary of the squadron's attacks on dams in Germany, which inspired the The Dam Busters film.
'Important role'
Historian Howard Heeley, who wrote the guide, said: "Hopefully the new Aviation Heritage Guide will encourage people to visit these locations for themselves.
"By doing this I am sure they will also come to appreciate the important role that East Lindsey's airfield sites played in aviation locally, nationally and internationally."
The guide, called East Lindsey Aviation Heritage, will be available at tourist information centres across the district or to download online.
Places to visit include the Lincolnshire Aviation Heritage Centre, an original World War II airfield now run by two men whose older brother was shot down and killed on a bombing raid over Nuremberg in 1944.
The brothers are currently restoring a Lancaster bomber, which featured in Doctor Who, as a tribute to their brother.
Mr Heeley said: "Whilst visiting the various sites to take photographs and check details I was really struck by the sense of history and emotion that still connects the sites, with the personnel that served there; and in some cases that still serve there."