Plans for national beach sports stadium in Skegness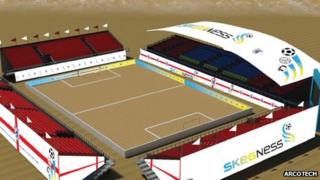 The seaside resort of Skegness could become home to the country's national beach sports stadium.
If approved, the venue would host all international beach soccer matches and national tournaments as well as local league games.
The 2,040 seat stadium, sited adjacent to the pier, would also be used as a training venue.
The company behind the plans, Skegness Beach Stadium Ltd, said events would attract 400,000 spectators a year.
Chief executive Gary Shepherd said: "This is an opportunity for Skegness to bring in an exciting new business within the Olympic sports legacy, create new jobs and serve as a long-term driver of economic growth.
"This is Skegness' chance to begin capturing major international sporting events, especially during what is typically our slow hotel season - as the season will run from April through to late October."
The England beach soccer team's manager David Jones said: "We believe that Skegness beach represents one of the last untapped major sports and entertainment markets in the country, and will offer the entire nation an excellent opportunity to strengthen an established beach sport, hopefully destined for the 2020 Olympics."