Sonny Grey murder trial: Victim 'knew his attackers'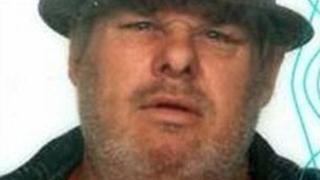 A Lincoln man who died after being beaten and scalded with boiling water knew his attackers, a court has heard.
Nottingham Crown Court was told that as Sonny Grey, 70, was dying, he tried to tell his family who his attackers were.
Mr Grey died on 31 October 2011 after being attacked by men trying to steal his money.
Rocky Curtis, 25, of Newbridge Lane, Wisbech, Cambridgeshire, and Robert Holmes 24, of Redmoor Lane - also in Wisbech - deny murder.
Andrew Campbell-Tiech QC, defending Mr Holmes, said: "Sonny Grey gave the impression to quite a number of people he knew who his attackers were."
He added Mr Grey's carer thought he was trying to tell her who the men were "but he struggled with his breath and he couldn't get it out".
But Mr Campbell-Tiech said there was no evidence Mr Grey knew either defendant.
All three men were members of the travelling community.
'An experienced thief'
Mr Grey was attacked at his home in Westwick Gardens, on 29 October 2011.
The court heard he was beaten and throttled, possibly with a belt, and had boiling water poured over him at least twice to make him reveal where he hid his money.
He had £9,000 in his house.
Mr Curtis and Mr Holmes claim they set out towards Lincoln on the day of the attack to steal cars.
They were with Mr Curtis's brother Thomas. He was arrested in connection with the attack but died last year.
Summing up the case, the judge Mr Justice Saunders said Mr Holmes admitted to going out stealing nearly 500 times in six months with Mr Curtis.
"He was a regular thief and made a living out of stealing," he said.
Mr Curtis, he said, was a "skilled and experienced car thief who seldom gets caught".
However, he told the jury: "However undesirable you think they are - and they bring a bad name to travellers - you can't think, 'The sooner they are locked up, the better'. You will need to find them guilty of murder."
The trial continues.