Lincolnshire man living near wind farm denied turbine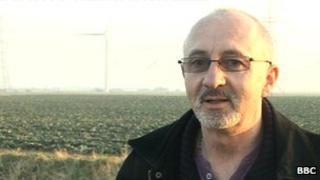 A Lincolnshire man who lives near one of the county's biggest wind farms says he is shocked at being advised not to apply for a turbine in his garden.
Steve Rashleigh, from Bicker, was told his 15m turbine could interfere with Ministry of Defence (MoD) radars.
He lives 600 metres from Bicker Fen Wind Farm, where 13 wind turbines were built for EDF Energy five years ago.
But he was advised not to apply after approaching turbine developers Windcrop.
Windcrop check the location of MoD radars before submitting any application.
"I was a bit shocked because obviously I thought I would probably get a turbine," said Mr Rashleigh.
"It just seems crazy. We have got the land for it and we are surrounded by a wind farm."
However, Windcrop told him his application was likely to be rejected because of MoD regulations.
John Moore, managing director, said: "The fact Mr Rashleigh has a big wind farm near him is immaterial.
"The MoD are able to take mitigation steps with strategically important wind farms, whereas small wind systems are seen as not really mattering. I think that is rather short-sighted."
Mr Moore said he had had around 100 other applications for turbines across the east of England rejected for similar reasons. Because each application costs nearly £400, he had advised Mr Rashleigh not to apply.
Boston Borough Council confirmed they had not received an application for a wind turbine from Mr Rashleigh.
A spokesman for the MoD said each application was considered on its merits.
"We work hard to balance our support for the renewables industry with ensuring our military operations are safe."