Team flies out for Indian Russian egg roulette championship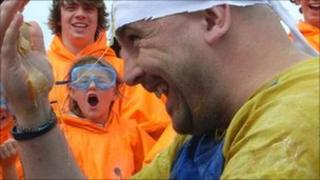 A team of Lincolnshire lads is hoping to smash the opposition in the first Indian Test Match in Russian egg roulette.
Andy Dunlop is leading the group from Swaton, near Sleaford, to compete in Amritsar in north-west India.
Egg roulette involves competitors breaking a choice of six eggs on their heads with the loser finding the single uncooked one.
The group is also raising Rotary money to help eradicate polio.
Mr Dunlop is president of the World Egg Throwing Championship which is held annually in his home village.
But the trip has a serious message as the group will also be helping in the Rotary campaign to eradicate polio.
The team flew out in time to support Polio National Immunisation Day in the warm up to the contest on Wednesday.
They will be helping vaccinate children in the Lucknow region as part of Rotary International's campaign.
A confident Mr Dunlop said: "The four of us know our eggs from eggs."
Every year, Swaton hosts the World Egg Throwing Championships attracting teams from as far away as Germany and South Africa.
Last year saw a Dutch squad take home the top honours.