Market Rasen accident: Cyclist critical after crash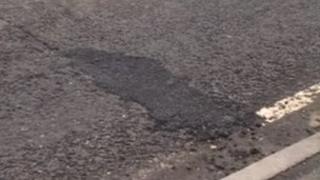 A cyclist has been left in a critical condition with serious head injuries following a road crash.
The 40-year-old from Kirton-in-Lindsey, was riding with a group of cyclists when he fell near Ash Grove Farm on the A631 at Market Rasen on Tuesday.
Police are working on the theory that the accident may have been caused by a pothole.
The pothole was repaired by Lincolnshire County Council after it was reported by police.
The man, who was wearing a helmet, was airlifted to Hull Royal Infirmary after the accident and has undergone surgery.
Pothole investigated
A spokesman for Lincolnshire Police said: "The possibility the incident was caused by a pothole will be investigated, along with other potential causes."
Sergeant Ady Wootton added: "In general the road is in a reasonable condition but there are aspects of the road we are not satisfied with."
Officers said they had spoken to Lincolnshire County Council about the state of the road.
Alan Aistrup, head of highways for the council, said until Tuesday they had not received any reports of potholes in the area and they were now assisting police with their investigation.