Plans revealed for off-shore windfarm at Triton Knoll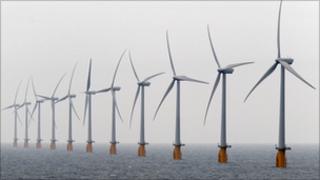 The final proposals for the development of an off-shore windfarm in Lincolnshire have been revealed.
RWE Npower Renewables has released details of how power from the Triton Knoll windfarm will be transported to the National Grid.
Project manager, Jacob Hain, said it was "crucial to the UK's economy" and they now wanted the public's views.
Councillor for Bicker Fen, Aaron Spencer, said residents had worries about disruption to the rural area.
Plans released by the firm show how undersea cables will run from the windfarm, which will be 20 miles off the coast at Mablethorpe to the shore at Anderby Creek.
Cables will then continue underground to an electrical compound near Skegness and from there will link to a substation at Bicker Fen, near Boston.
Public consultation
RWE say the project will create 500 jobs and have earmarked three locations for the electrical compound and four possible sites for the substation, which will be up to 20 hectares in size.
Mr Hain added: "The consultation will ensure the location we finally choose is the most appropriate location for the Triton Knoll electrical infrastructure.
"This is the final piece of the jigsaw and we need to get local knowledge to allow us to take the final decision on where this infrastructure should be."
Consultation starts on 19 February and ends on 5 April. Several events will also take place around Lincolnshire.
Mr Hain said RWE would then make a final decision by the summer and hoped to start building "within this decade".